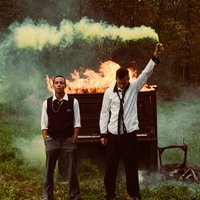 Exclusive Interview 
Top 5 Influences?  1. Ben Howard is a huge one. To be able to create something so emotionally powerful that you can feel it in your soul, aside from only lyrics but the entire sonic feeling.. thats something I aim for every time. The music that takes you somewhere else. 2.Jon Bellion. I stumbled across a "making of" video of his 1 day.. his process is a lot like mine.. ended up watching all of those videos more than once and it's always a good way to get me inspired when I'm in need of inspiration. 3.Sohn. His productions are outrageously unique. Such simple production when you break it down.. but so complex in so many ways. Being a producer/songwriter I can appreciate that. 4.Kevin Garrett. His writing is top notch 5.KYGO. I'm a big fan of a lot of stuff he does. He's always pushing the boundaries and switching it up.
New projects? I have a solo project I'm currently producing and I will have that out sometime in 2018. (Says every indecisive artist lol) I'm currently in the process of some music videos for new songs that will be finished soon. I am also currently producing and writing a collab album with my long time collaborate and friend adonis butler. He's a hip-hop/moody r&b Artist, and that will be out mid 2018!
What helped get you into music? What helped me get into music: Honestly.. as cliche as it may sound, Music has gotten me through my toughest times in life. It was one thing I could always escape to. Headphones on/World Off. I've always been drawn to helping and connecting with people and I have always had a strong desire to leave an impact on the world.. to leave a mark and a legacy as someone who did something good and made a change. I think Music is a great way to do that. It stops time momentarily.. makes people feel and think..I had played a few different instruments throughout school, and after graduating, I had to figure out what I wanted to do. I had no idea other than i wanted to do "something" that meant something. That I would be proud of. I ended up getting a keyboard and a bunch of recording equipment and started producing & recording/mixing other artists and long story short after years of that, it lead me to putting my own music out.. I'm rambling but to wrap it up, Music is extremely powerful and i know how I've connected with it .. if I can make music that sparks a positive change or connects with even one person. Im happy. I think I was just naturally drawn to doing this.
Anything to tell your fans? That I'm actually terrified of singing in front of people! Haha! And honestly Anybody who listens, or supports, I am beyond grateful.. it means the world. There's still a lot to my sound I have yet to really "embody" as a solo artist, and I look forward to introducing the other sides of my music, and my story.
Biggest Goals for 2018? My biggest goal for 2018 is to get this project out and establish myself as more of a solo artist. I've been behind the scenes producing for so long, this is my biggest leap that I have to follow through on