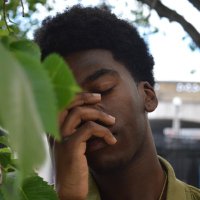 Exclusive Interview 
BIO? I go by P.K Born in Toronto, Ontario that's forever my hometown. Currently live in Ottawa, Ontario.
What got you into music? I began getting into music in high school, when I was 17. I did my first performance for black history month, which at that moment birthed my profound love for music. Was greeted from people saying that I can rap & such. Then 18 came around, and at that point I wasn't really taking music seriously. Was told by my mom to just focus on school, which I did. However, that isn't for everyone. Due to odd events coming out of nowhere, 18 & 19 became some of the worst years of my life man. Weird experiences & encounters with life that I'm still trying to decipher to this day. That's when, at 19, I began writing immensely, poems & could be verses for songs, and returned to making music – for real. Since I'm still looking for my sound, It wouldn't be right to give an exact description of my music style. So far, I've discovered that I bring this contemporary laid – back, almost nostalgic type. Some would agree that I take my lyricism very seriously, almost like a perfectionist. (Guess it's the Virgo in me).
Top 5 Influences? Once again, I can't break it down to just five influences. I have different categories, old school, dead or alive, and so on. Those among my top 10, whether dead or alive, would be (no specific order): ● Tupac Outkast ● J Cole Jay Z ● Lil Wayne Nas ● Kanye West Eminem ● Michael Jackson ( Dancing) Kendrick Lamar I won't be releasing a debut mixtape until I've felt that I've mastered some tracks, so expect it sometime in 2018. Once I get a better glimpse of when I'll be dropping music, you guys will know forsure!
Anything to tell your fans? One thing I would tell me fans, is that my voice can resonate with our whole generation. My messages takes time to comprehend, but once you do you'll rock with me.
Biggest Goals for 2017? My biggest goals for 2017, is to continue to work and craft my style of music until I'm comfortable enough to share my gifts with the world. Stepping stones to milestones, I will achieve that one day. Patience with all of this.